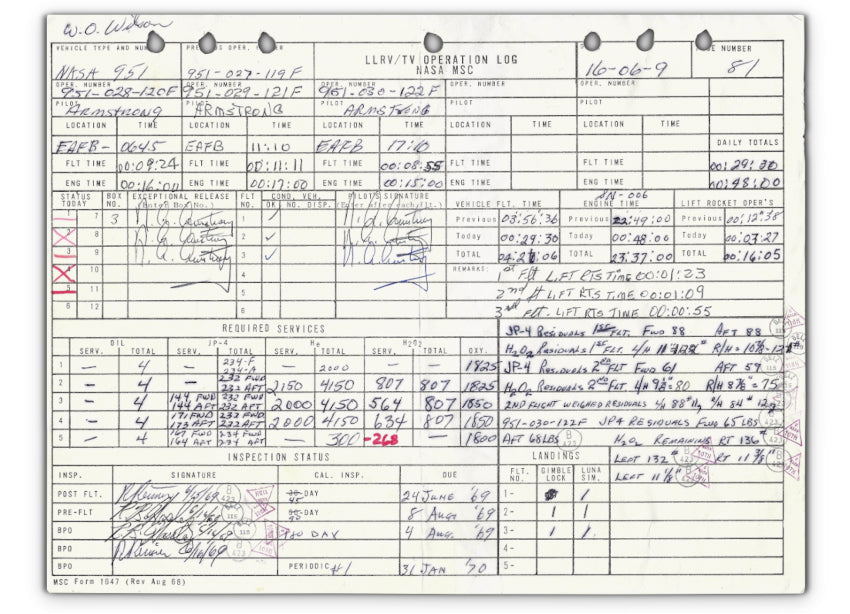 Neil Armstrong Apollo 11 NASA flight log signed six times
A highly rare and important document from the Apollo 11 mission

Neil Armstrong's official flight log for his training in the Lunar Landing Test Vehicle (LLTV)
Signed an incredible six times by Armstrong
Signed by Armstrong using his almost unheard of private signature: "n.a. armstrong," - hugely scarce
This is the official NASA operation log for the Lunar Landing Test Vehicle (LLTV), an experimental aircraft designed to train the astronauts of the Apollo Program.
Titled "LLRV/TV Operation Log - NASA MSC", with twelve NASA stamps and sixteen Bell Aerosystem stamps.
The partially printed single page document measures 11" x 8.5", and is in exceptional condition.
The LLTV was flown by Armstrong as part of his training prior to the historic Apollo XI Lunar Landing on July 20, 1969.
This flight log documents his final three test flights at Ellington Air Force Base in Texas on June 16, 1969.
Armstrong has signed the document a remarkable six times - twice for each of the test flights.
He has used his private signature: "n.a. armstrong," revealing this document was not intended for public view. Armstrong's private signatures are impossibly scarce.

This report also contains a wealth of information including vehicle flight times, engine time, inspection status, service performed, lift pocket operation, vehicle condition, jet fuel, helium, and oxygen levels, etc.
Neil Armstrong's LLTV training was vital to the success of the Apollo 11 mission.
Without it he would have been unable to pilot the Eagle lunar landing vehicle, and would not have been the first man on the Moon.
This historic flight log is one of most important Apollo 11 signed documents still in private hands.

Provenance: Ex-Stanley Gibbons.
Click here to discover more about this item.
Free global shipping. 28-day no quibble returns. Certificate of Authenticity and our Lifetime Moneyback Guarantee of Authenticity included
BUY NOW: Order online, by phone +44 (0)1534 639 998, or via email info@paulfrasercollectibles.com
Payment & Security
Your payment information is processed securely. We do not store credit card details nor have access to your credit card information.