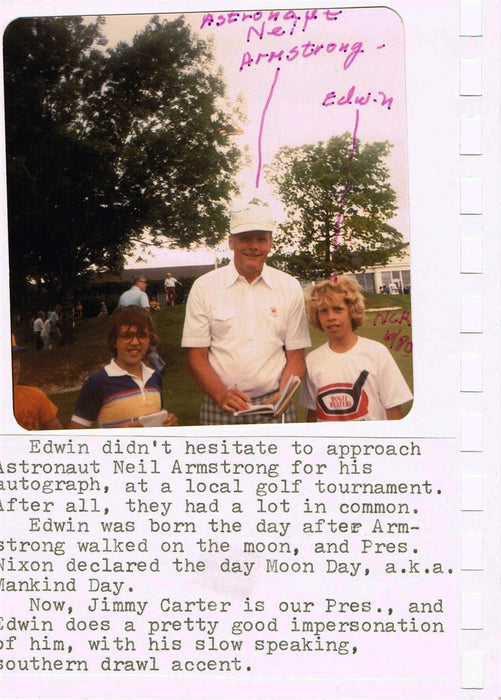 Neil Armstrong autograph with photographic provenance
Dutch Auction Day 3 Price: £7160.00
Dutch Auction Day 2 Price: £8055.00
Dutch Auction Starting Price: £8950.00
A Neil Armstrong autograph with exceptional photographic provenance
In 1969, Apollo 11 commander Neil Armstrong became the first person to set foot on the Moon.
He was awarded a Congressional Space Medal of Honor for his efforts and has been decorated by 17 countries in total. Shortly after Apollo 11, Armstrong announced that he would not be flying into space again.
For one year he served as Deputy Associate Administrator for Aeronautics, NASA Headquarters and then went on to teach at the Department of Aerospace Engineering at the University of Cincinnati between 1971 and 1979. From 1982 until 1992 he was chairman of Computing Technologies for Aviation Inc.
This is a C.R. Gibson company Autograph book measuring 6 inches x 4½ inches.
The book contains various autographs including those of George Foster (baseball), Charley Pride (musician), Foster Brooks (comedian), Gerald Ford (President), Glen Campbell (musician), Pat Boone (musician), Bob Griese (football), Bob Hope (comedian).
All the signatures were obtained at the annual 'Bogie Busters' golf tournament, which was held to raise funds for charity.
In addition there is a Jim Irwin signature with handwritten annotation "To Ed, His love from the Moon, Jim Irwin, Apollo 15 (plus moon drawing), 21 Nov 1980".
The Neil Armstrong autograph is clearly signed and occupies a single page within the autograph book. It is accompanied by an original colour photograph of a smiling Neil Armstrong at the golf event, alongside the recipient of the autograph.
A very rare signature, uniquely documented by the accompanying photograph. Sold with a letter of provenance from the recipient of the autograph.
Free global shipping. 28-day returns. Certificate of Authenticity and our Lifetime Moneyback Guarantee of Authenticity included.
BUY NOW: Order online, by phone +44 (0)1534 639 998, or via email info@paulfrasercollectibles.com
Payment & Security
Your payment information is processed securely. We do not store credit card details nor have access to your credit card information.