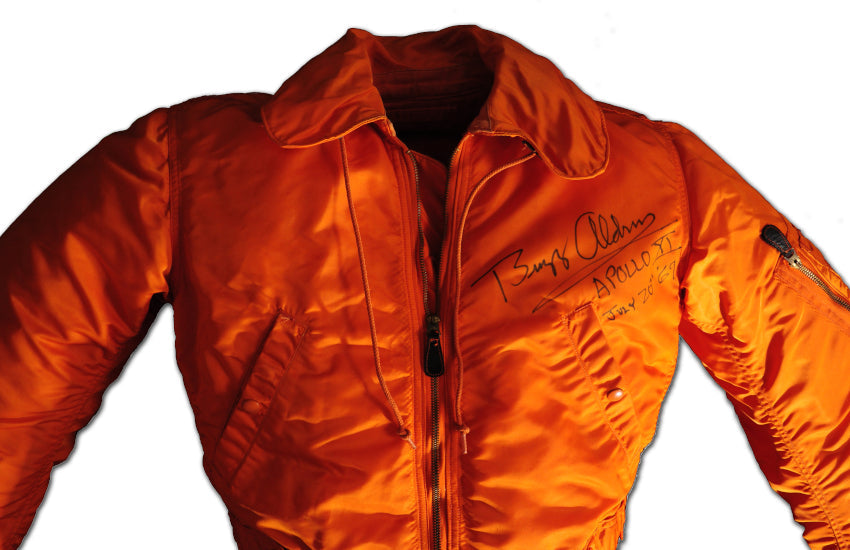 Buzz Aldrin Apollo 11 NASA flight training suit
Buzz Aldrin's personally owned and worn NASA flight training suit from the Gemini 12 and Apollo 11 missions
Edwin 'Buzz' Aldrin (1930 -) is an American former astronaut and one of only 12 men to walk on the moon.
He served as the Lunar Module pilot on Apollo 11, the first manned moon landing in history. In July 1969 he became the second person to ever step on the lunar surface.
Aldrin had previously served as pilot aboard Gemini 12 in 1966. During this mission, Aldrin walked outside the spacecraft on three occasions.
Aldrin held the record for the most extra-vehicular activity time until it was surpassed on Apollo 14 in 1971.
As of November 2020 he remains one of only four surviving moon walkers.

This flight training suit was worn by Buzz Aldrin during training for both of his spaceflights: Gemini 12, where he conducted three successful space walks and Apollo 11, when he and Neil Armstrong took the first steps on the moon.

The bright orange coverall, which was manufactured by L.W. Foster Sportswear Co Inc, was supplied to NASA on 3 May 1961, five years before Aldrin's first spaceflight aboard Gemini 12 and eight years before the launch of Apollo 11.
It has been boldly signed by Aldrin above the left chest pocket: "Buzz Aldrin, Apollo 11, July 20th 1969".
The suit originates from Buzz Aldrin's personal collection, and was consigned to
auction at Superior Galleries in November 1991.
Though not flown, this suit was integral in the training for the spaceflight and is therefore an historically significant piece of Apollo 11 memorabilia.
Due to the historical importance of the mission, many related items are now held in institutions. The Smithsonian National Air and Space Museum holds 400 items relating to the first lunar landing, including helmets, constant wear garments, sunglasses and in-flight coveralls.
This suit is one of the few major items relating to the Apollo 11 mission that remains in private hands.
A unique piece of space history.
Click here to discover more about this item
Free global shipping. 28-day returns. Certificate of Authenticity and our Lifetime Moneyback Guarantee of Authenticity included.
BUY NOW: Order online, by phone +44 (0)1534 639 998, or via email info@paulfrasercollectibles.com
Payment & Security
Your payment information is processed securely. We do not store credit card details nor have access to your credit card information.