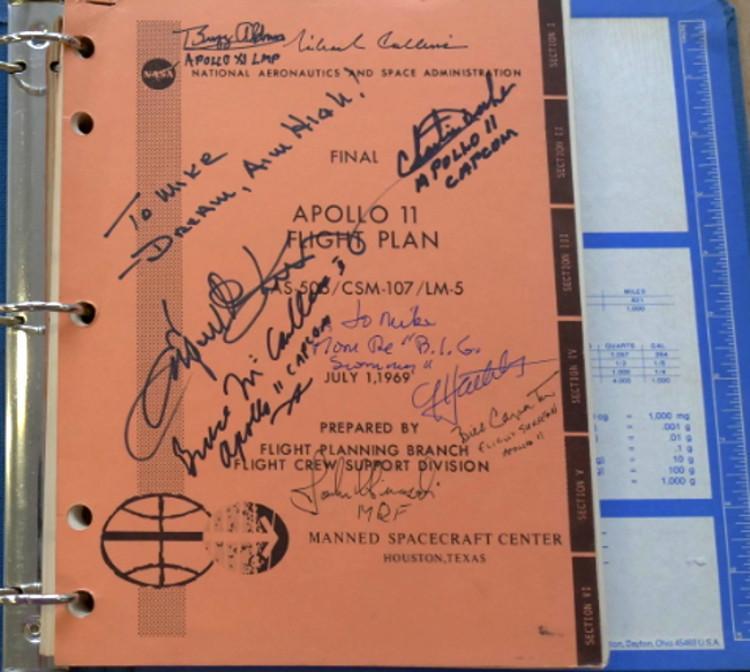 Apollo 11 signed flight plan
An original signed Apollo 11 flight plan
Autographs from astronauts Buzz Aldrin and Michael Collins
Also bearing autographs from other essential members of the mission crew
The Apollo program was NASA's third foray into human spaceflight and operated from 1961 through 1972. It succeeded in putting the first men on the Moon with the Apollo 11 landing in 1969, a defining moment in human history.
This is an original Apollo 11 flight plan, printed for the ground crew at Houston during the historic flight. It's identical to the plan Neil Armstrong, Michael Collins and Buzz Aldrin used from the moment of launch to splashing down in the North Pacific.
The plan is signed on the cover by Apollo 11 astronauts Buzz Aldrin and Michael Collins, as well as other essential members of the mission. These are flight director Gene Kranz, lander CAPCOM Charlie Duke, EVA CAPCOM Bruce McCandless, recovery diver Clancy Hatleberg, post-flight surgeon Dr Bill Carpentier and Mobile Quarantine Facility (MQF) technician John Hirasaki. The original owner collected the autographs at signings over the years.
An incredible piece of space memorabilia that offers a direct link to the Apollo 11 mission. Another Apollo 11 plan in lesser condition featuring signatures from Aldrin, Collins and Charlie Duke recently sold at Sotheby's for $62,500. 
Free global delivery. 28-day returns.
Payment & Security
Your payment information is processed securely. We do not store credit card details nor have access to your credit card information.