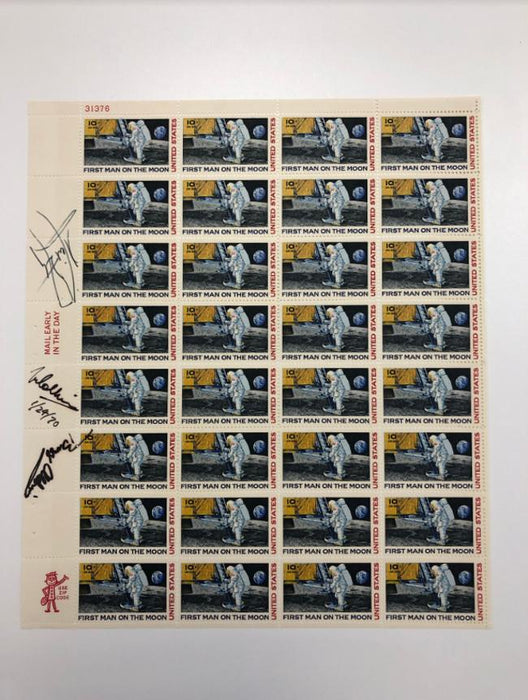 Apollo 11 crew signed 1969 10c "First Man on the Moon" stamp block
A unique full Apollo 11 crew-signed block of 32 1969 10c "First Man on the Moon" stamps
The Apollo program was NASA's third foray into human spaceflight and operated from 1961 through 1972. It succeeded in putting the first men on the Moon with the Apollo 11 landing in 1969, a defining moment in human history.
An original block of 32 1969 10c "First Man on the Moon" stamps signed by all three members of the Apollo 11 crew (Neil Armstrong, Buzz Aldrin and Michael Collins) in black ink on the left margin. It is the only known block of the stamps signed by any of the Apollo 11 astronauts. 
The Post Office released this commemorative issue on September 9, 1969. It proved hugely popular. The astronauts actually carried the master die with them on Apollo 11. 
Measures approx 9 x 10.5 inches. 
Free global delivery. 28 day returns. Certificate of Authenticity and our Lifetime Moneyback Guarantee of Authenticity included.
Payment & Security
Your payment information is processed securely. We do not store credit card details nor have access to your credit card information.