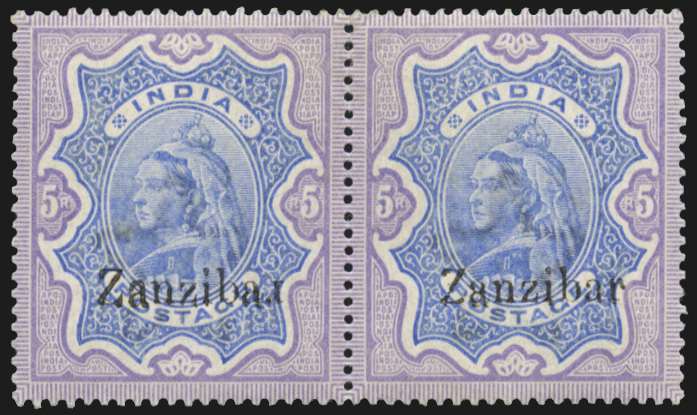 ZANZIBAR 1895-6 5r Inverted "r" in pair R2/3-4, SG21kA
Zanzibar 1895-96 5r ultramarine and violet, type 1 overprint, horizontal pair, SG21k.
The left stamp includes the ERROR "Inverted r" (in conjunction with "Daun's capital Z" and thick sans-serif first "a" as always), the right stamp variety "First Z antique" (sloping serifs).
A fresh quality piece with large part original gum, (insignificant separation between).
Considered to be from the small second high value setting of 12 (ERD 10 Jan 1896), R2/3-4.
Very fine, and one of the great Zanzibar rarities, being one of just eight unused examples recorded in private hands (plus one in the Royal Collection), of which only three exist in pair, as here.
Provenance: Ex Beauchamp Vialou, Feer (SGA 22/5/1968. lot 230) and Frazer (Spink 26/3/2004, lot 1190)
Accompanied with a Royal Philatelic Society (RPS) certificate of authenticity (1932) and British Philatelic Association (BPA) certificate of authenticity (2018).
Payment & Security
Your payment information is processed securely. We do not store credit card details nor have access to your credit card information.