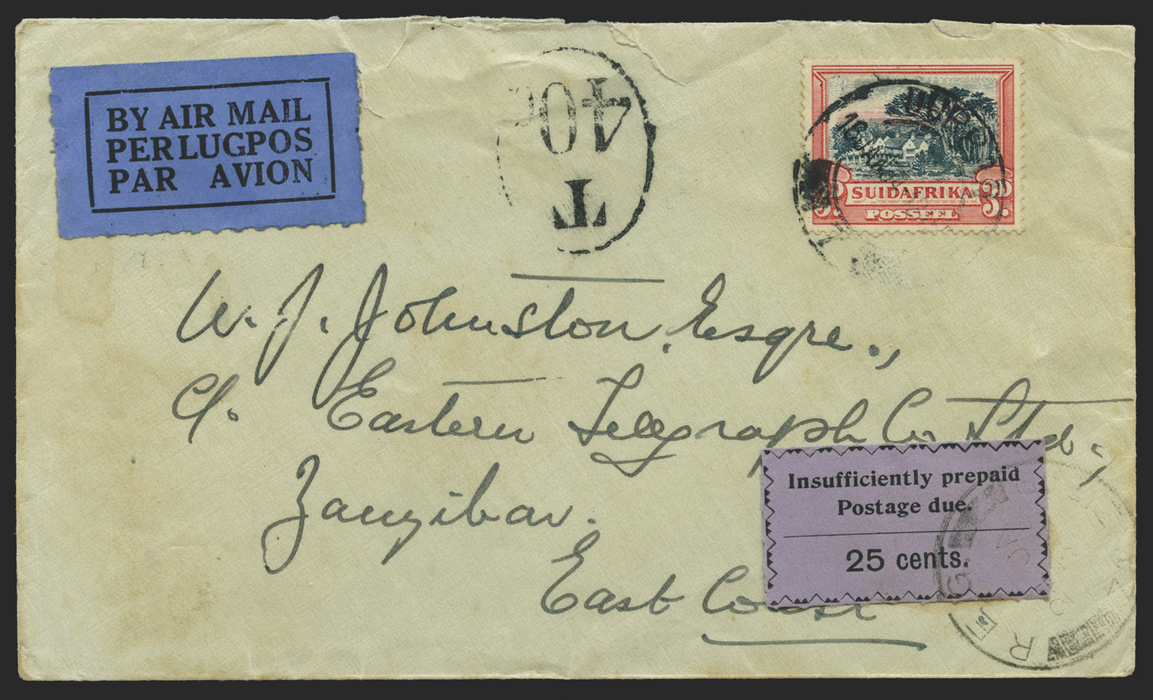 Zanzibar 1934 25c black/lilac Postage Due Cover, SGD24
Zanzibar 1934 (18 JAN) incoming airmail cover from Durban, South Africa with black/blue trilingual airmail label, underfranked by 1930-45 3d black and red (the rate being 5d) tied by despatch circular date stamp, with bold oval "T/40c" applied alongside to indicate double deficiency of 40 gold centimes.
On reverse, transit circular date stamp of Dodoma (20 JA 34) and Dar Es Salaam (22 JA 1934) in Tanganyika, and type KD13 Zanzibar arrival circular date stamp (23 JA 34).
The deficiency was paid on arrival by 1930-33 25c black/lilac postage due, SGD24 (6th setting, 1st printing, R2/2) applied to face and tied by light type R7 "REG./ZANZIBAR" circular date stamp (24 JA 34).
A very fine and neat cover other than trivial opening faults and much better quality than normally seen for covers of this nature. A lovely piece of complex postal history in most attractive condition.
A rare and desirable cover being one of only 12 recorded with the 25c black/lilac.
Provenance: Ex Griffith-Jones, and illustrated (as Fig. 11.33) on p.312 of his book. Census F.205.
BUY NOW: Order online, by phone +44 (0)1534 639 998, or via email info@paulfrasercollectibles.com
Payment & Security
Your payment information is processed securely. We do not store credit card details nor have access to your credit card information.