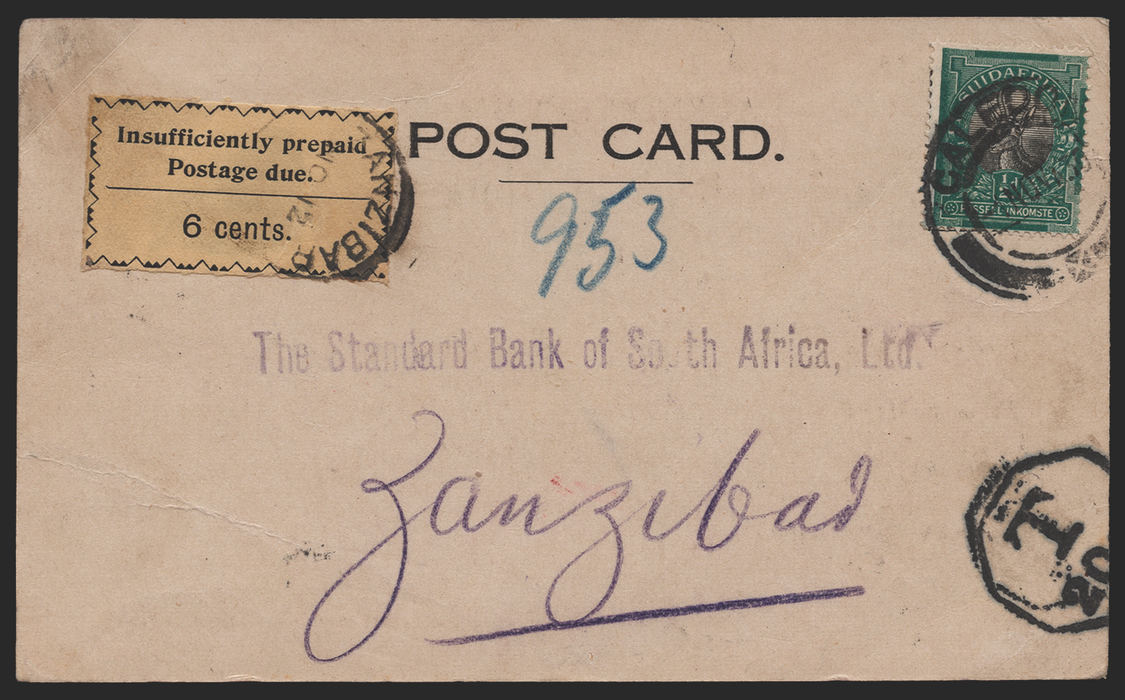 Zanzibar 1930 6c black/yellow Postage Due cover, SGD21
Zanzibar 1930 (Nov) incoming postcard from South Africa, being an acknowledgement from the Standard Bank of South Africa at Caledon (near Cape Town) to its Zanzibar branch, underfranked by 1926-27 ½d black and green (correct rate was 1½d) tied by despatch circular date stamp (1 Nov 30) with hexagonal "T/20" due mark below.
On reverse, type D9 "ZANZIBAR" arrival circular date stamp of "NO 11 30" and Bank despatch (31 OCT 1930) and receipt (13 NOV 1930) Handstamp in violet.
On face, 1930-33 6c black/yellow (SGD21) postage due (first setting, R2/1), tied by "NO 12" type D9 circular date stamp, although the correct deficiency should have been 12 Zanzibar cents, and blue crayon '953' register number.
A fine quality piece despite some trivial blemishes, which are to be expected for a cover like this. An attractive and rare commercial usage, with few underpaid postcards known.
A wonderful and complex piece of Postage Due postal history.
Provenance: Ex Griffith-Jones (listed on p.465 of his book as census F.56), Sturton (Harmer Sept 2004, lot 1227) and Rowell (CRL 28 Oct 1992, lot 565).
BUY NOW: Order online, by phone +44 (0)1534 639 998, or via email info@paulfrasercollectibles.com
Payment & Security
Your payment information is processed securely. We do not store credit card details nor have access to your credit card information.