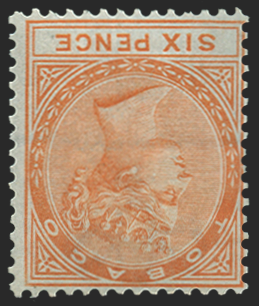 Tobago 1879 6d orange variety, SG3w
Tobago 1879 6d orange, type 1, watermark (CC), variety watermark inverted, SG3w.
A fine and fresh mint example with large part original gum. From the top row of a sheet, with only the marginal line and crown visible, but the shade, paper and gum all confirm that this is from the 1879 "CC" issue.
A scarce variety, rarely seen so fine.
This stamp variety comes from the first stamp issue for Tobago under British administration and represents the first variety recorded for a stamp from Tobago.
The stamps were issued for fiscal uses from July 1, 1879. They were then used provisionally for postal mail from August 1, 1879. Consequently, this stamp provides philatelic interest since it is a fiscal stamp which was used for both fiscal and postal purposes. As it was initially intended for fiscal use only, it does not include the typical "POSTAGE" inscription on the stamp.

The Stanley Gibbons catalogue value is £140.
BUY NOW: Order online, by phone +44 (0)1534 639 998, or via email info@paulfrasercollectibles.com
Payment & Security
Your payment information is processed securely. We do not store credit card details nor have access to your credit card information.