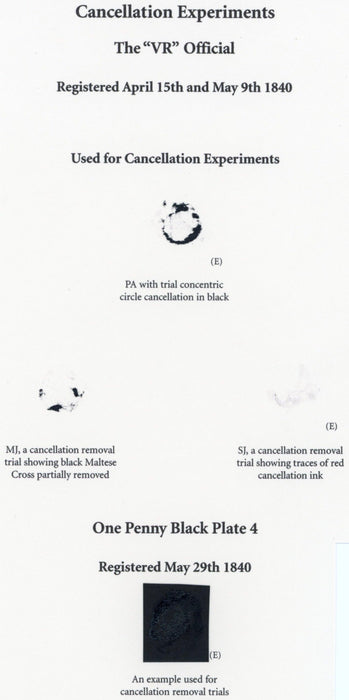 Great Britain 1840 1d black plate 4, the cancellation removal trial of 1840, SG2
Great Britain 1840 1d black plate 4, the cancellation removal trial of 1840, SG2
As early as January 1840 the treasury was advised that the red handstruck "PAID" markings could be removed from covers by the application of creosote oil. As a result of this alarming fact the treasury instructed experiments to be undertaken on the ink used for cancelling postage labels. The Penny Black was so well printed in such fast colours that it was a fairly simple operation to remove the red obliterating ink then in use without destroying the face of the label.
This example (from plate 4) shows official attempts to remove the new trial black composition obliterating ink. One cancellation has been removed (with some damage to the label) and a second cancellation applied over the top.
Accompanied with a British Philatelic Association (BPA) certificate of authenticity.
BUY NOW: Order online, by phone +44 (0)1534 639 998, or via email info@paulfrasercollectibles.com
Payment & Security
Your payment information is processed securely. We do not store credit card details nor have access to your credit card information.