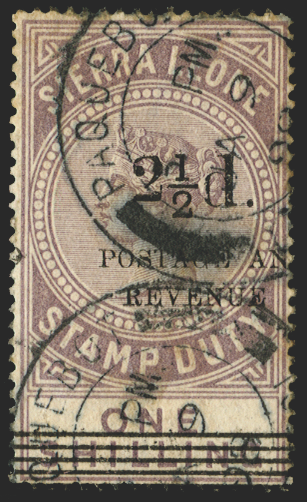 SIERRA LEONE 1897 2½d on 1s dull lilac, SG64
Sierra Leone 1897 2½d on 1s dull lilac, type 9 surcharge from R2/9 of the setting, used with two part strikes of 'PAQUEBOT/L(IVERPO)OL' circular date stamps, dated 'JA 9 98', SG64.
A much finer used example than normally found. Despite minor perforation toning and a slightly heavy cancel, it benefits from true colour and fine appearance.
A very rare and desirable stamp as only a maximum of 71 possible examples, many of which were water-stained.
It is of further philatelic importance as it is believed to be unique with this cancel.

The Stanley Gibbons catalogue value is £1,300.
BUY NOW: Order online, by phone +44 (0)1534 639 998, or via email info@paulfrasercollectibles.com
Payment & Security
Your payment information is processed securely. We do not store credit card details nor have access to your credit card information.