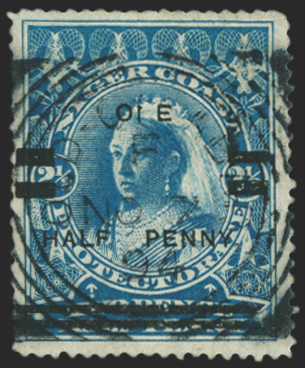 NIGER COAST 1894 ½d on 2½d blue variety, SG65b
Niger Coast 1894 (10 Aug) ½1/2d on 2½1/2d blue, type 17 surcharge, Old Calabar provisional, showing variety 'OIE' for 'ONE', from position 8 of the row of 8, cancelled by large part 'OLD CALABAR RIVER' squared circle date stamp, dated 'NO 7 94', SG65b.
A fine used example despite a few shortish perforations, which is often the case with these issues.
Very scarce as less than 120 originally existed and fewer surviving examples today.
The Stanley Gibbons catalogue value is £1,200.
BUY NOW: Order online, by phone +44 (0)1534 639 998, or via email info@paulfrasercollectibles.com
Payment & Security
Your payment information is processed securely. We do not store credit card details nor have access to your credit card information.