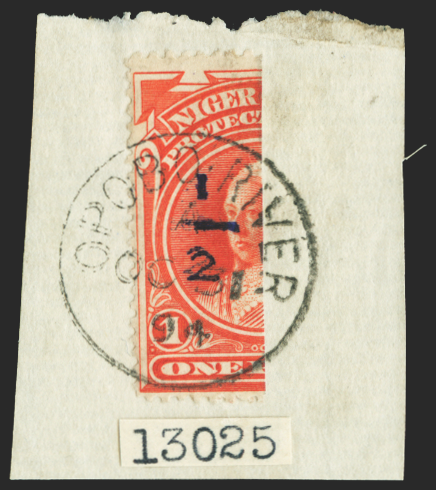 NIGER COAST 1894 '½' on left half of 1d vermilion variety, SG63var
£750.00
Niger Coast 1894 (Aug-Sept) '½' on left half of 1d vermilion, type 15 surcharge (partially doubled) in VIOLET, Opobo bisect provisional, tied to piece by 'OPOBO RIVER' circular date stamp, dated 'OC 31 94', SG63var.
A fine used example with attractive central cancellation.
A most unusual example showing distinct doubling of the hand stamp. A very rare piece with only 240 stamps being issued of all three colours and particularly rare with the variety.
In May of 1894 British overprinted stamps were replaced with new designs inscribed correctly "NIGER COAST PROTECTORATE" featuring the same portrait of Queen Victoria. These stamps were issued on unwatermarked paper. Also in 1894, there was an expanded need for ½d and 1d stamps and 1d and 2d stamps were overprinted to all bisection of the stamps.
Accompanied with a British Philatelic Association (BPA) certificate of authenticity as former SG60 (1949).
BUY NOW: Order online, by phone +44 (0)1534 639 998, or via email info@paulfrasercollectibles.com
Payment & Security
Your payment information is processed securely. We do not store credit card details nor have access to your credit card information.