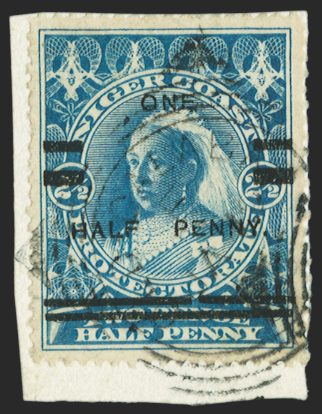 NIGER COAST 1894 ½d on 2½d blue, SG65
Niger Coast 1894 (10 Aug) ½d on 2½d blue, type 17 surcharge, Old Calabar provisional, tied to small piece by 'OLD CALABAR' squared circle with 'F' code, dated 'JA 19 95', SG65.
A fine used example despite a few short perforations.
Very scarce with only 960 of these stamps being issued. Position 6 of the setting.
The Stanley Gibbons catalogue value is £250.
BUY NOW: Order online, by phone +44 (0)1534 639 998, or via email info@paulfrasercollectibles.com
Payment & Security
Your payment information is processed securely. We do not store credit card details nor have access to your credit card information.