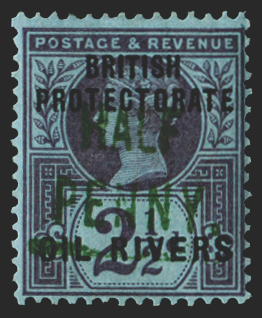 NIGER COAST 1893 ½d on 2½d purple/blue, SG11
Niger Coast 1893 (Dec) ½d on 2½d purple/blue, type 4 surcharge in green, Old Calabar provisional, SG11.
A fresh and fine mint example with original gum.
The main post office of Niger Coast Protectorate was established at Old Calabar in November 1891. Initially, British postage stamps were used. In July 1892, they were overprinted with "BRITISH / PROTECTORATE / OIL / RIVERS". A pressing need for half penny values in mid-1893 resulted in a variety of surcharges on 2d and 2½​d stamps.
BUY NOW: Order online, by phone +44 (0)1534 639 998, or via email info@paulfrasercollectibles.com
Payment & Security
Your payment information is processed securely. We do not store credit card details nor have access to your credit card information.