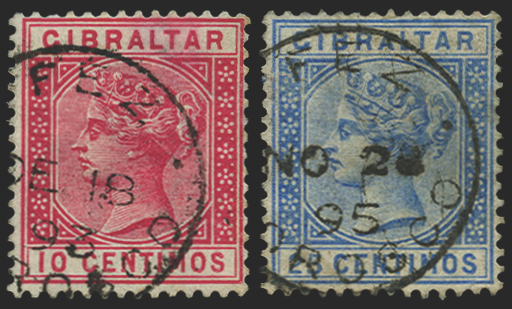 Morocco Agencies Gibraltar 1889-96 10c carmine, 25c ultramarine, SGZ32, 35
Morocco Agencies 1889-96 Gibraltar 10c carmine, 25c ultramarine, used with "FEZ/MOROCCO" circular date stamps, SGZ32, 35.
Fine used examples with clearly dated strikes. A few minor imperfections, but overall very nice examples.
Scarce cancellations of Gibraltar stamps used in Morocco.
When the colonial posts became independent of the British GPO on 1 January 1886, Gibraltar retained responsibility for the Morocco Agencies. Further offices, each under the control of the local Vice-Consul were opened from 1886 onwards.
The Stanley Gibbons catalogue value is £120.
BUY NOW: Order online, by phone +44 (0)1534 639 998, or via email info@paulfrasercollectibles.com
Payment & Security
Your payment information is processed securely. We do not store credit card details nor have access to your credit card information.