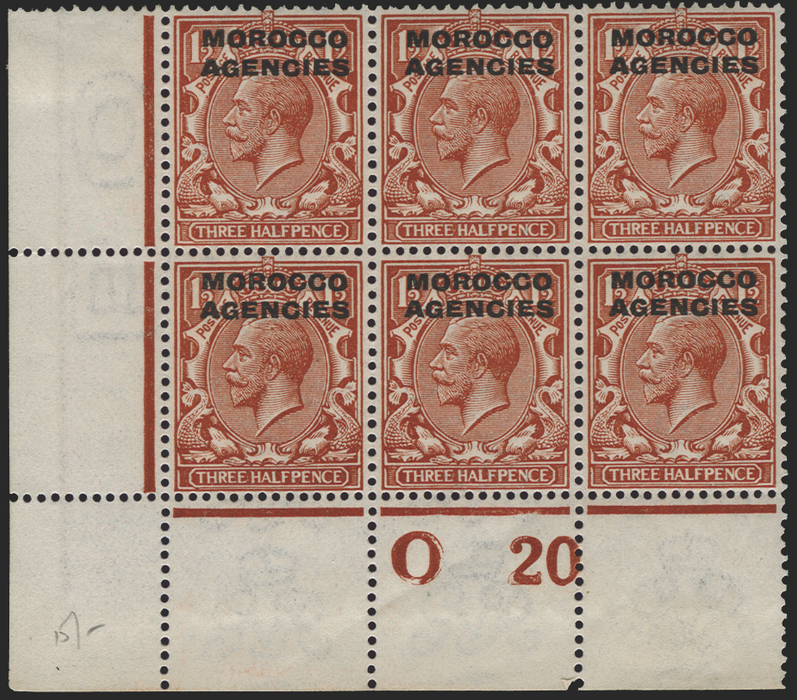 MOROCCO AGENCIES 1914-31 British Currency 1½d red-brown, SG44
Morocco Agencies 1914-31 British Currency 1½d red-brown, Simple Cypher watermark, lower left corner 'O20' control block of 6 (3x2), plate 2a, perforated margin, SG44.
A brilliant quality mint block of six with original gum, with five of the stamps unmounted mint. A minor bend in lower margin, which doesn't detract and of very fine fresh appearance.
A scarce positional multiple of exceptional quality of this King George V overprinted stamp.
British stamps overprinted "MOROCCO AGENCIES" were primarily intended for use on parcels (and later, airmail correspondence), and were on sale at British PO's throughout Morocco including Tangier until 1937.
BUY NOW: Order online, by phone +44 (0)1534 639 998, or via email info@paulfrasercollectibles.com
Payment & Security
Your payment information is processed securely. We do not store credit card details nor have access to your credit card information.