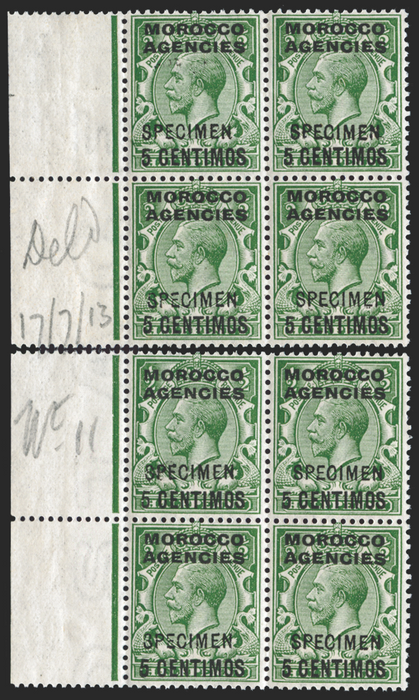 MOROCCO AGENCIES 1914-26 5c on ½d yellow-green SPECIMEN, SG129
Morocco Agencies 1914-26 Spanish Currency 5c on ½d yellow-green, watermark Simple Cypher, overprint 'SPECIMEN' (type GB26), SG129.
A quite exceptional unmounted mint, with full original gum, left marginal block of 8 (2x4), severed into two blocks, annotated in pencil 'Deld 17/7/13' (upper block) and 'Wt. 11' lower block). In pristine condition other than a crease on the top pair, which barely detracts from otherwise perfection.
An important and desirable King George V positional multiple unique in private hands, and never previously on the market.
"SPECIMEN" examples were used solely by postal administrations for reference purposes to help spot any attempted forgeries.
Provenance: Ex British Postal Museum Archives.
BUY NOW: Order online, by phone +44 (0)1534 639 998, or via email info@paulfrasercollectibles.com
Payment & Security
Your payment information is processed securely. We do not store credit card details nor have access to your credit card information.