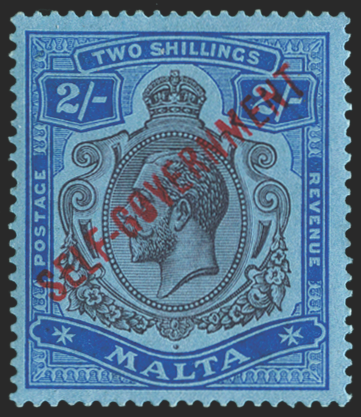 MALTA 1922 'SELF-GOVERNMENT' 2s purple and blue/blue, SG111
Malta 1922 'SELF-GOVERNMENT' 2s purple and blue/blue, watermark MCA, SG111.
A fresh mint example with large part original gum.
In 1922, stamps from Malta experienced an evolution , due to the new self-governing status of the crown colony.
During 1921, Malta was granted a new constitution and self-government status within the British Empire. It was still a crown colony, with their defense and foreign affairs directed by Great Britain, and the British sovereign, represented in Malta by the Governor General, who was still the head-of-state. However, within the colony, the Maltese people and their elected representatives were now able to manage all internal civil and political affairs.
To celebrate this new autonomy, Malta overprinted all their current postage stamps and a new series of definitive postage stamps were designed and issued.
A rare and important stamp issue from Malta. Only 3,240 were issued.
The Stanley Gibbons catalogue value is £250.
BUY NOW: Order online, by phone +44 (0)1534 639 998, or via email info@paulfrasercollectibles.com
Payment & Security
Your payment information is processed securely. We do not store credit card details nor have access to your credit card information.