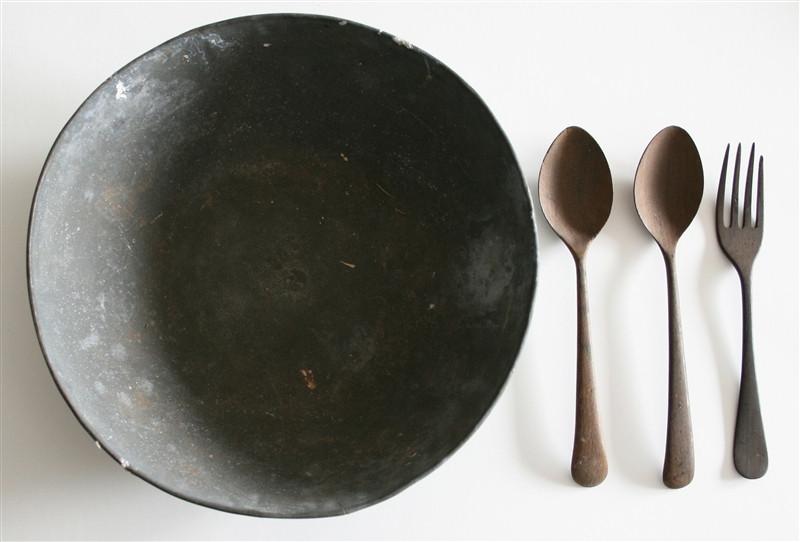 Mahatma Gandhi's personal food bowl, fork and spoons
Historically important metal food bowl, two wooden spoons and a wooden fork owned by Mahatma Gandhi, "Father of the Nation"

Used by Gandhi during his incarceration at Aga Khan Palace in Pune, as well as at the Palm-Bun house, Juhu Beach, Mumbai

Provenance from shipping magnate Sumati Morajee, owner of Palm-Bun house, who cared for Gandhi while there
Mohandas Karamchand Gandhi (1869-1948) is celebrated as the father of modern India. Gandhi trained as a lawyer in London. On a posting to South Africa he experienced intense racism. He pushed back. On returning to India in 1915 he became a leader in the Indian nationalist movement. Gandhi insisted on non-violent means to effect change. Over time his influence among ordinary Indians grew.
He renounced all worldly possessions, wearing only a simple cotton dhoti (loincloth). The British did all they could to destroy his influence. He spent years in prison. Finally on August 15, 1947, after almost 300 years of colonial control, India declared independence. Gandhi did not live to see the first free elections. A Hindu nationalist assassinated him as he walked to a prayer meeting in New Delhi in January 1948. Gandhi remains a figurehead for independence movements the world over.
Without doubt one of the most historically important collections we have ever had the pleasure of offering
A collection of eating utensils, comprising a metal food bowl, a simple wooden fork and two wooden spoons belonging to Mahatma Gandhi.
The food bowl measures approximately 2½" high by 8" in diameter and carries the stamped numbers to its base '208/42'. The spoons and fork are approximately 6½" in length. All items are in good condition.
The items belonged to Gandhi and were used by him at the Palm-Bun house, owned by shipping magnate Sumati Morarjee, at Juhu Beach, Bombay (Mumbai).
According to Morarjee family lore the utensils were used by Gandhi during his incarceration at the Aga Khan's palace in Pune from 9 August 1942 to 6 May 1944, and then taken to their home at Juhu Beach.
Gandhi first visited the Palm-Bun house in 1915 after his return from South Africa. He also spent extended periods of time at the home, most notably in 1924 after his surgery for appendicitis and in 1944 after his release from detention at the Aga Khan's palace in Pune.
During both extended visits Gandhi was cared for by Sumati Morarjee, a close associate of Gandhi's who was actively involved in the underground movement for independence.
Morarjee is also known as the first woman of Indian shipping, and is credited as the first woman in the world to head an organisation of ship owners, the Indian National Steamship Owners Association. In 1971 she was awarded the second highest civilian honour of India for her civil services.
These items were subsequently kept by Sumati Morarjee at her home, in an unofficial museum. The items are documented in the book Sumati Morarjee Felicitation Volume (1970) and also in Vithalbhai Jhaveri's epic film biography of Gandhi.
Provenance: The collection of Sumati Morarjee.
Continue reading to learn more about this exceptional collection of Gandhi's memorabilia.
Free global shipping. 28-day returns. Certificate of Authenticity and our Lifetime Moneyback Guarantee of Authenticity included. 
BUY NOW: Order online, by phone +44 (0)117 933 9500, or via email info@paulfrasercollectibles.com
Payment & Security
Your payment information is processed securely. We do not store credit card details nor have access to your credit card information.