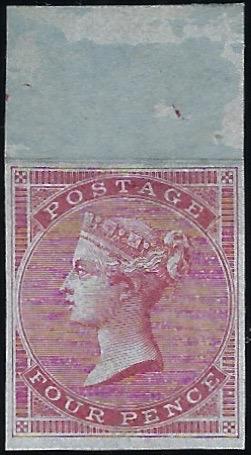 Great Britain 1855 4d Carmine, Plate 1 imprimatur, SG62var
Great Britain 1855 4d Carmine Plate 1, SG62var.
Very fine unused top marginal imperforate imprimatur from the very first approved printing sheet.
Very rare, being one of only 24 possible examples, many of which are in institutional collections.

SG Catalogue Value: £8,500.
Payment & Security
Your payment information is processed securely. We do not store credit card details nor have access to your credit card information.