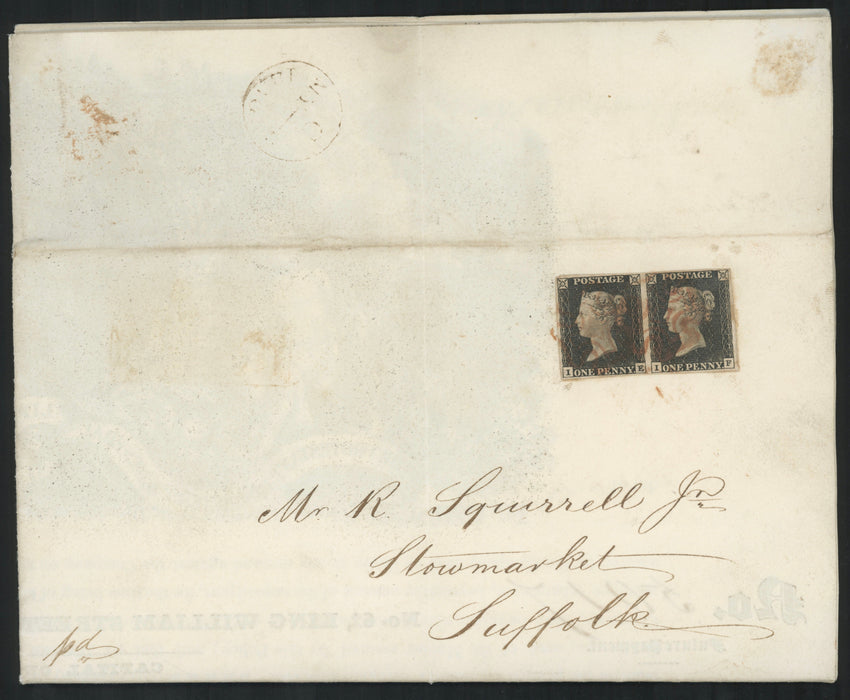 Great Britain 1840 1d black plate 1a pair on first day cover, SG2
Great Britain 1840 (6th May) complete "Protestant Dissenters Assurance Company" insurance document sent from London to Stowmarket, Suffolk, franked with horizontal pair of 1840 1d black, plate 1a, lettered 'ID-IF' used to pay the 2d postage rate for an item weighing in excess of ½oz but below 1oz, SG2.
Cancelled by light red Maltese Crosses, handstamped with a London Chief Office circular datestamp of dispatch of "C/MY-6/1840" on the reverse (the time code "C" indicates the evening duty) and dated within "In witness... this sixth day of May 1840, First Day of Official Use."
The document is a magnificently engraved Insurance Certificate issued by the "Protestant Dissenters & General Life & Fire Insurance Company" for loss or damage by fire up to an amount of £200, covering a Meeting House and two adjoining Cottages at Stowmarket, built of timber and tiles and owned by Robert Squirrell, Junior, and clearly officially signed, sealed and dated on 6th May 1840.
This is believed to be unique as the only known legal contract 1d black first day cover. A world-famous cover and one of the most important pieces of British philately.
Accompanied with a British Philatelic Association (BPA) certificate of authenticity, dated 3rd December 2001 and a David Brandon Expert Committee certificate of authenticity dated 22nd December 2001.
Provenance: Ex Alan Holyoake RDP FRPSL Grand Prix Collection, featuring on page 79 of his book, "The World's First Postage Stamp" published in 2013.  
Payment & Security
Your payment information is processed securely. We do not store credit card details nor have access to your credit card information.