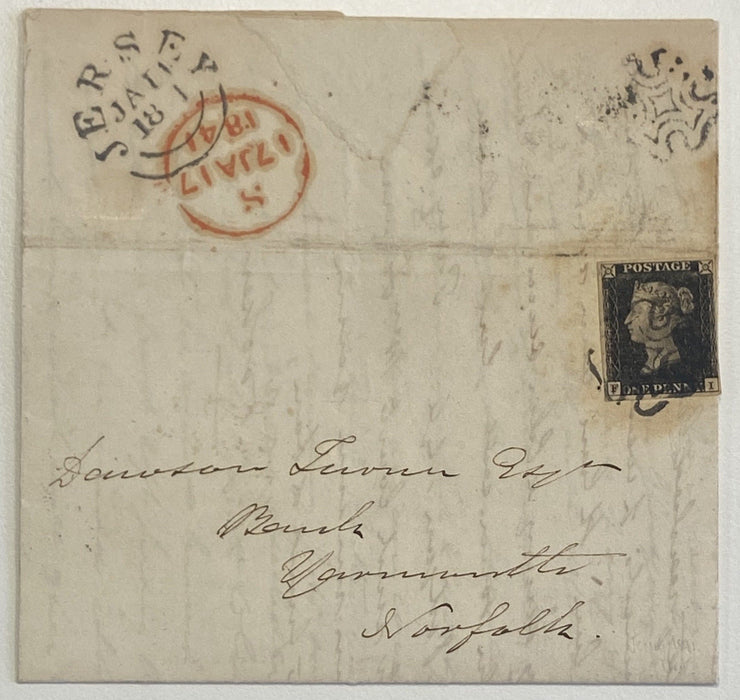 Great Britain 1840 1d black cover, SG2
Great Britain 1841 (Jan 18) entire from Jersey to Yarmouth, Norfolk bearing 1d black "FI", plate 1a (SG2) with close to good margins, tied by Maltese Cross struck in black ink. With Jersey double arc circular datestamp in black and London transit circular date stamp in red on reverse, which also shows an offset of the black Maltese Cross.
A fine and attractive cover despite some minor staining around the adhesive of the stamp.
A very important and rare abnormal usage of the black Maltese Cross outside of London. The black Maltese Cross was officially introduced on February 10th, 1841, with this example pre-dating the official date by 22 days.
A very rare abnormal use of the black Maltese Cross outside of London prior to February 10th, 1841. Contrary to official instructions, it would appear that Jersey began the use of black ink for cancellations in November 1840, the latest recorded use of red ink being November 23rd and the first use of black ink November 27th. The reason for this remains unknown!
Provenance: Ex Chartwell Collection. Ex. "Mayflower" Grand Prix Collection.
BUY NOW: Order online, by phone +44 (0)1534 639 998, or via email info@paulfrasercollectibles.com
Payment & Security
Your payment information is processed securely. We do not store credit card details nor have access to your credit card information.