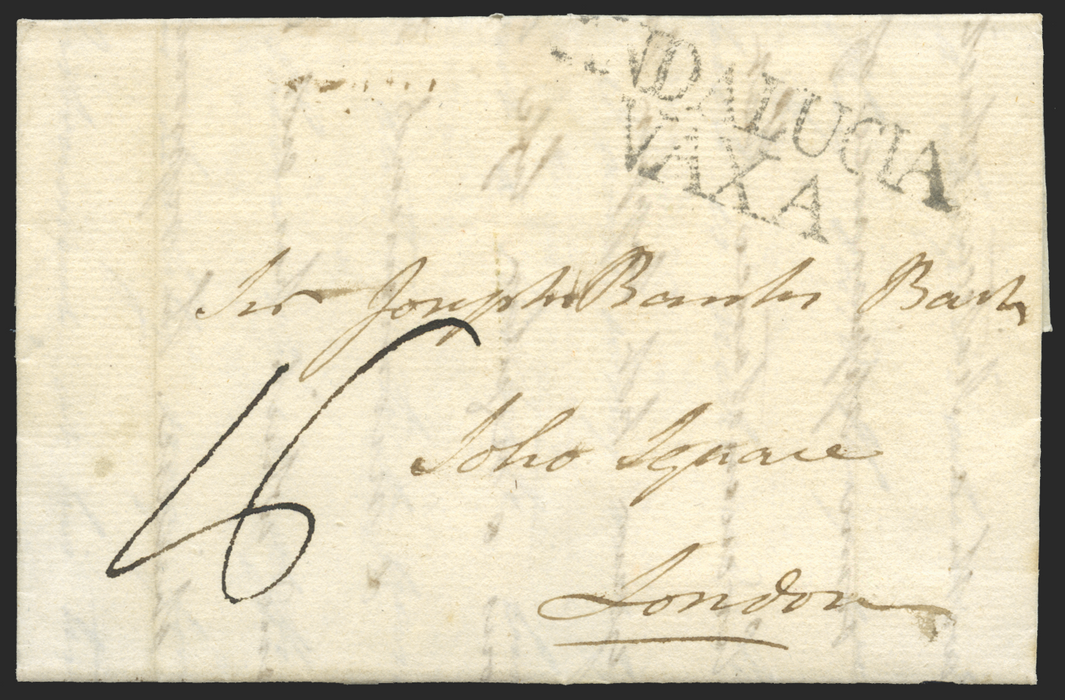 Gibraltar 1786 entire to London via Spanish overland route
Gibraltar 1786 (24 Sep) entire letter from Gibraltar, addressed to the famous naturalist Sir Joseph Banks [then president of The Royal Society], London, sent by the Spanish overland route, with a fine strike of the rare "ANDALUCIA/VAXA" handstamp in black on face.
Rated "8"(d) on arrival, with very fine "OC/20" Bishop mark on back flap (which would open out for display).
Sir Joseph Banks accompanied Captain James Cook on his first great voyage from 1768-71, and is credited with introducing the eucalyptus, acacia and (named after him) the Banksia to the Western world.
A remarkably fine and clean cover and an important and exceedingly rare piece of postal history.
Provenance: Ex Geoffrey Osborn (Christie's Robson Lowe sale, 14 May 1991, lot 1094).
BUY NOW: Order online, by phone +44 (0)1534 639 998, or via email info@paulfrasercollectibles.com
Payment & Security
Your payment information is processed securely. We do not store credit card details nor have access to your credit card information.