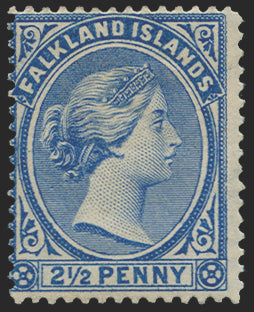 FALKLAND ISLANDS 1891-1902 2½d pale chalky ultramarine, SG27
Falkland Islands 1891-1902 2½d pale chalky ultramarine, Sept 1891 printing, SG27.
A fine mint example with part original gum. Small adhesion on gum and typical centring for this issue. Overall a fine and fresh example of this issue which is difficult to find without material condition defects.
These stamps were first placed on sale in the Falkland Islands on 10 September 1891 and came from the August 1891 printing. The stock of the May printings sent to the Falkland Islands was lost at sea.
Stanley Gibbons catalogue value: £275.
BUY NOW: Order online, by phone +44 (0)1534 639 998, or via email info@paulfrasercollectibles.com
Payment & Security
Your payment information is processed securely. We do not store credit card details nor have access to your credit card information.