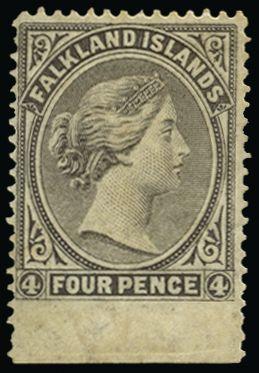 Falkland Islands 1878-79 4d grey-black SG2a
Falkland Islands 1878-79 4d grey-black, from foot of sheet with imperforate margin, showing "FF" of papermaker's watermark, SG2a.
Mint example with part original gum. Minor toning and gum disturbance, but still fine for this rare issue, particularly with perforations and centring being far above average.
A rarity in unused condition, being the first such example we have handled for many years.
The SG catalogue price is £3,750.
Read our full newsletter about this item here. 
Free global delivery. 28-day returns. 
Payment & Security
Your payment information is processed securely. We do not store credit card details nor have access to your credit card information.