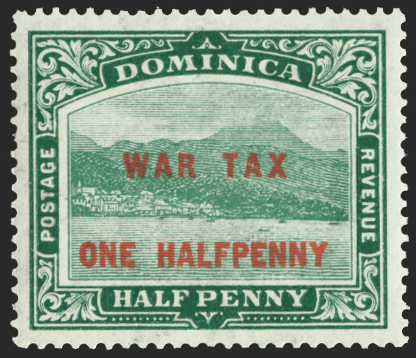 DOMINICA 1916 'War Tax' ½d on ½d deep green variety, SG55x
Dominica 1916 (Sept) 'War Tax' ½d on ½d deep green, type 12 surcharge in red, variety 'Watermark sideways reversed', SG55x.
A fine and fresh unmounted mint example with full original gum. Other than one slightly short perforation, it is a superb example being well-centred and with very fine appearance.
A most attractive stamp displaying Roseau, the capital of Dominica from the sea.
A very scarce stamp with the watermark variety.
BUY NOW: Order online, by phone +44 (0)1534 639 998, or via email info@paulfrasercollectibles.com
Payment & Security
Your payment information is processed securely. We do not store credit card details nor have access to your credit card information.