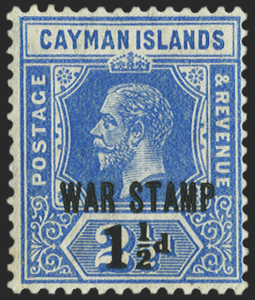 CAYMAN ISLANDS 1917 'WAR STAMP' 1½d on 2½d deep blue, SG55
Cayman Islands 1917 'WAR STAMP' 1½d on 2½d deep blue, type 16 surcharge, SG55.
Fine fresh appearance mint example with original gum. Faintly yellowish gum as often the case, and one perforation with trace of toning on reverse, yet much above average for this very rare stamp.
Only 420 were issued in error. The printers, De La Rue, recognised that the surcharge did not adequately obliterate the original face value and they were replaced with a more effective surcharge. A small quantity, however, said to be 3½ sheets was included in the consignment in error.
The Stanley Gibbons catalogue value is £750.
BUY NOW: Order online, by phone +44 (0)1534 639 998, or via email info@paulfrasercollectibles.com
Payment & Security
Your payment information is processed securely. We do not store credit card details nor have access to your credit card information.