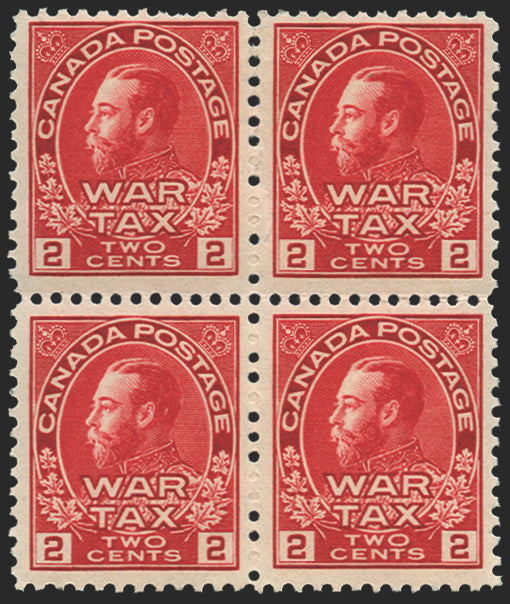 Canada 1915 War Tax 2c rose-carmine, SG230
Canada 1915 War Tax 2c rose-carmine, type 46, block of 4, SG230.
A fine and fresh mint block of four with original gum. A couple of short perforations at top, but still a most attractive piece.
A scarce philatelic item in this form.
Stanley Gibbons catalogue value: £140+.
Canada War Tax Stamps were issued between April 15, 1915 and December 1916.
The War Tax was added in addition to the rate of postage meaning the stamp carried both its face value and the added WAR TAX. The additional revenue raised was used to defray the costs of war. Canada's first war tax stamps were produced with modified printing dies of the 'Admiral' series, first to read WAR TAX, and later issues read 1T¢.
BUY NOW: Order online, by phone +44 (0)1534 639 998, or via email info@paulfrasercollectibles.com
Payment & Security
Your payment information is processed securely. We do not store credit card details nor have access to your credit card information.