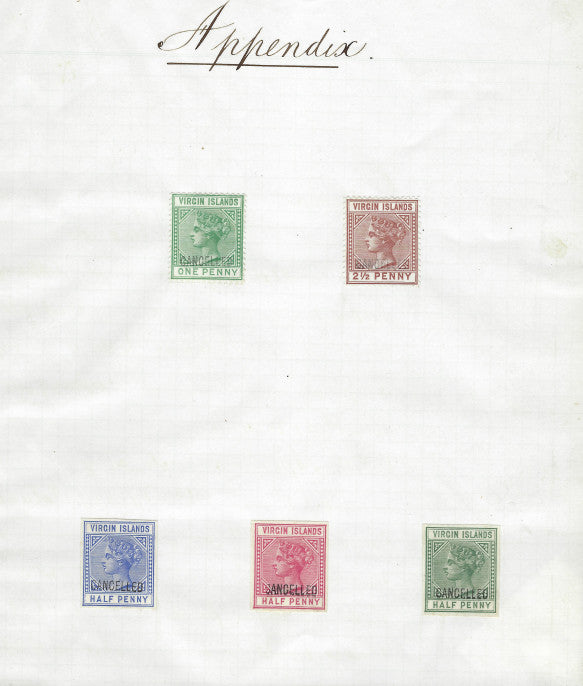 Virgin Islands 1883 (28 Feb) colour scheme proofs
British Virgin Islands 1883 (28 Feb) colour scheme proofs (160 x 215mm, headed "Appendix" in miniature sheet and with handstamped date at upper right) submitted by De La Rue to the Crown Agents in response to an order for a new ½d value. The problem was that the current 1d keyplate was already in emerald-green (SG24), although "green" was now the international colour for a ½d stamp.
To illustrate this, De La Rue affixed the current 1d (SG24) and 2½d (SG25) in the upper line, and IMPERFORATE ½d colour trials, watermark CA, in blue, carmine and green, below each item handstamped "CANCELLED" (type D7). In the event, the first printing of the ½d was in yellow, but the universal colours were adopted for the ½d (green), 1d (carmine) and 2½d (blue) later in 1883-84. A unique and beautiful document with fantastic provenance, ex. J.L. Fredrick and De La Rue archives (The De La Rue Collection p.6506).
Read our full newsletter on this piece here.
Free global delivery. 28-day returns.
BUY NOW: Order online, by phone +44 (0)1534 639 998, or via email info@paulfrasercollectibles.com
Payment & Security
Your payment information is processed securely. We do not store credit card details nor have access to your credit card information.