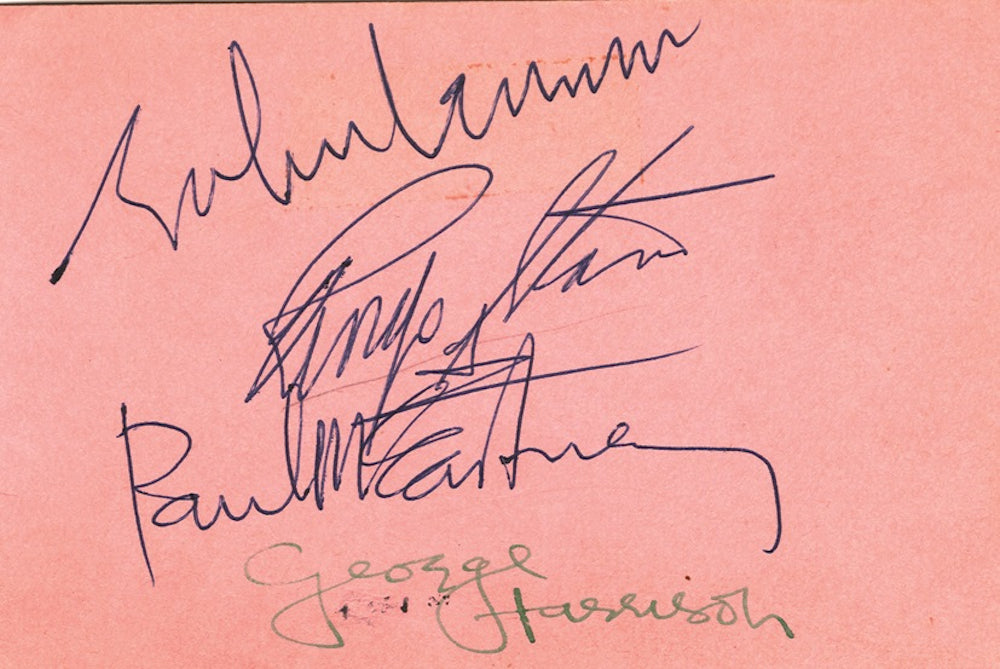 The Beatles complete set of autographs
A wonderful complete set of autographs by The Beatles, undedicated and signed on a single sheet..
The Beatles are the biggest-selling and most influential band in pop music history.
Their classic albums were integral to the development of 1960s counterculture, and had a lasting effect on everything from fashion and film to the recognition of pop music as an art form.
Fifty years after they split up in 1970, the band's songs continue to inspire millions of fans around the world and every generation of musicians that has followed them.
A fantastic set of undedicated Beatles signatures in blue and green pen inks on a pink album page by John Lennon, George Harrison, Paul McCartney and Ringo Starr.
Page measures approximately 3" by 5".
With some light tape marks slightly affecting Lennon's surname and traces of blue ink below Harrison's signature.
A truly superb collection of autographs.
Provenance: ex Stanley Gibbons.
Click here to discover more about this item.
Free global shipping. 28-day returns. Certificate of Authenticity and our Lifetime Moneyback Guarantee of Authenticity included
BUY NOW: Order online, by phone +44 (0)1534 639 998, or via email info@paulfrasercollectibles.com
Payment & Security
Your payment information is processed securely. We do not store credit card details nor have access to your credit card information.