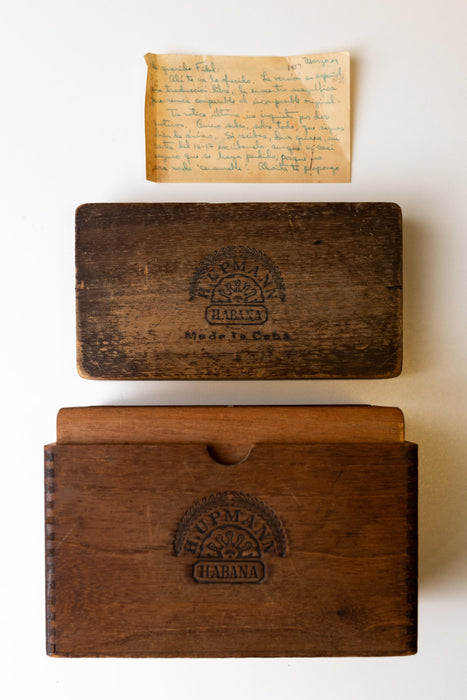 Fidel Castro's secret message cigar box with hidden doors, used by Castro to organise the Cuban revolution while in prison. Unknown until now.
Fidel Castro's 1953 Upmann No.4 handmade cigar box with two secret compartments for smuggling messages to and from prison.
Instrumental in organising the Cuban revolution.
Signed by Fidel Castro.
A monumental piece of Cuban history. Unknown outside Castro's inner circle, until this auction.
5.5 x 7.5 x 4 inches.
The lot includes a secret letter from mistress Natty Revuelta Clews to Castro, discovered in the box.
Background and history
Until this day the US government could not work out how Fidel Castro managed to successfully plan to overthrow General Batista while being incarcerated in a prison cell from 1953-1955.
To the small circle of revolutionaries of the 26th of July Movement that instigated, planned and took part in the Cuban revolution, the box came to be known as The Post Box or 'El Buzon De Correos'.
Finding himself in prison in 1953, Fidel Castro needed to find a way to send and receive secret messages to/from his 26th July comrades outside the prison without the Batista guards reading them.
A plan was put forward, and in mid 1953 Castro had a special cigar box made for him by one of his comrades that had not been arrested with him.
The box was made in the same style as the Upmann cigar boxes that were being sold at that time, but with a difference. This box had two secret doors built into the ends that could slide up and allow Castro to hide secret letters that he wanted delivered to the outside, without anyone seeing them.
When the box was finished in December 1953, it was filled with cigars and sent to Castro in prison. On December 8, 1953, Castro gave the box to his future mistress Natty Revuelta Clews and instructed her to use the box to supply him with cigars and to take secret messages from him to his comrades.
History shows us that the post box worked perfectly. It was a critical tool used in the planning of the Cuban revolution. Castro sent and received letters this way throughout his imprisonment from 1953-55. It then went missing, only to be found at the home he shared with Natty Revuelta Clews, after her death in 2015.
When the box was inspected in 2018 and the doors were opened, a letter was found inside still in place, from Natty to Castro.
The letter is being sold with the box.
Translated to English, it reads:
Dear Fidel,
March 29/1954
The Spanish version, a free translation, I find magnificent but never comparable to the
incomparable original. Your latest news worries me for two reasons. I want to know
above all, that you are still in good spirits. If you receive, God willing, my letter of 16-17, write
to me although it is almost certainly lost because it was nothing objectionable. Now I propose
that you send me a regulation letter to be on the safe side. At the first opportunity I will write
a few lines for you. Now I will let Kipling speak for me.
Natty
"Kipling" is believed to be a reference to a secret code Castro and Natty Revuelta Clews shared, that used one of Rudyard Kipling's works as the key.
It's likely Castro and Natty employed the code when sending non-cigar box love letters to each other while Castro was imprisoned, including a number of the letters featured in lot 25: "91 unseen letters between Fidel Castro and mistress Natty Revuelta Clews - photocopies and typed transcriptions".
This warrants further research by the successful bidder of lot 25.
Castro has also signed and inscribed the bottom of the box. Translated:
''For Natty. Always remembered / Never forgotten. December 8th, 1953 - Fidel.''
Extra information provided by signed affidavit from Umberto Ramos Hernandez, bodyguard to Fidel Castro from 1971 to 1985, and bodyguard to Natty Revuelta Clews from 1985 to 2015.
Provenance
Acquired by the previous owner at the estate sale of Fidel Castro's mistress Natty Revuelta Clews, between December 2015 and July 2016.
The previous owner is British businessman Mr Gary Shannon, who knew the Castro family and their associates for 20+ years from circa 2000. Mr Shannon helped provide technology and communications infrastructure to Cuba.
The item formed part of Mr Shannon's private Jagdamer Museum of Castro and Guevara memorabilia, from 2016 to 2020.
Natty Revuelta Clews (December 26, 1925 – February 27, 2015) was the mistress of Fidel Castro from 1955 until her death. Their daughter, Alina, was born in 1956.
Revuelta - a wealthy socialite - was instrumental in assisting Castro overthrow the Batista regime in Cuba.
Revuelta sold her jewels to support the Cuban rebels, helped plan the 26th of July Movement uprising in 1953 and, crucially, helped Fidel Castro co-ordinate the Cuban Revolution while he was imprisoned between 1953 and 1955, through exchanging secret messages with Castro.
The pair began their affair upon Castro's release from prison in May 1955.
Click here to discover more about this item.
Free global delivery. 28-day no quibble returns. Certificate of Authenticity and our Lifetime Moneyback Guarantee of Authenticity included.
BUY NOW: Order online, by phone +44 (0)1534 639 998, or via email info@paulfrasercollectibles.com
Payment & Security
Your payment information is processed securely. We do not store credit card details nor have access to your credit card information.