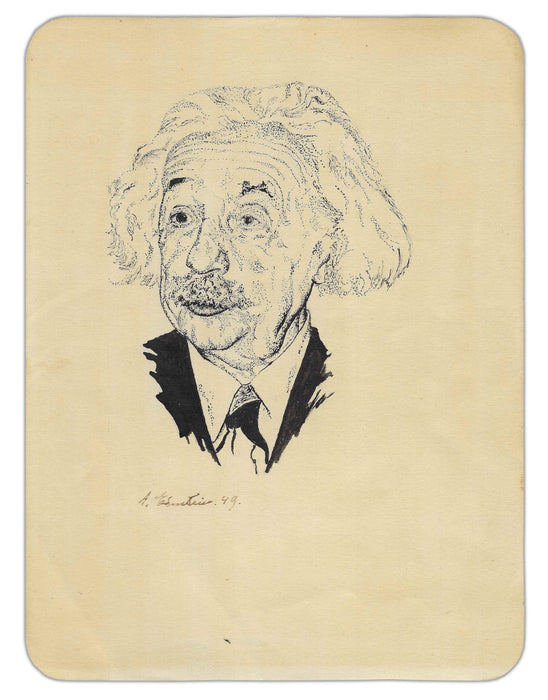 Albert Einstein signed portrait
An illustrated portrait of Albert Einstein signed by Einstein himself
Albert Einstein was one of the world's greatest scientific minds. In the early 1900s he developed the Theory of Relativity, a work that set the template for modern physics. A German citizen, he left the country shortly before Hitler seized power and never returned – choosing instead to spend the rest of his life in America.
He was instrumental in developing the first atomic bombs in the 1940s, in spite of a lifelong commitment to pacifism. Over the course of his career he published hundreds of scientific papers. His name has become interchangeable with genius.
An original ink portrait of Albert Einstein by artist Clement E. Campbell.
Drawn on an off-white sheet measuring 6" x 8" and presented in fine condition.

With a faint shade of overall toning and scattered light creases.

Signed "A. Einstein" and dated "49" in black fountain pen ink.
Accompanied by the artist's original copy of his typed letter, sent to Einstein to request his signature on the sketch.
Clement sent his portrait to Einstein at Princeton University, and wrote in part:

"You, no doubt, have had such requests before, but it is my fond hope that you might honor me mine...
"I'm following up my pastime as a hobby to provide something of a treasure for my three sons as they travel through their school years."
Einstein kindly obliged and returned the portrait, and the result is a unique artwork signed by one of the greatest minds in human history.
A highly rare and significant piece.
Click here to discover more about this item.
Free global shipping. 28-day returns. Certificate of Authenticity and our Lifetime Moneyback Guarantee of Authenticity included.

BUY NOW: Order online, by phone +44 (0)1534 639 998, or via email info@paulfrasercollectibles.com
Payment & Security
Your payment information is processed securely. We do not store credit card details nor have access to your credit card information.