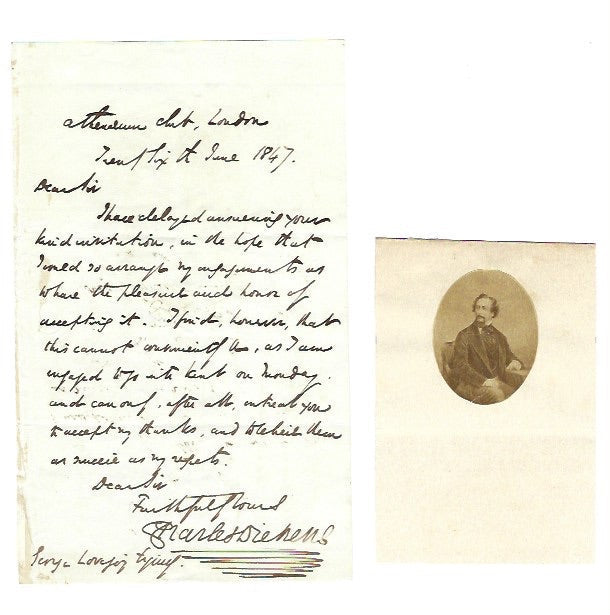 Charles Dickens 1847 handwritten and signed letter
A Charles Dickens 1847 handwritten and signed letter
Dickens writes the letter to the prominent Reading bookseller George Lovejoy (1808-1883), declining an invitation.
Sent on 26 June, 1847 from Dickens' London club, the Athenaeum. Dickens was in the midst of writing Dombey and Son when he sent this letter.
Dickens writes that: "I have delayed answering your kind invitation in the hope that I could so arrange my engagements to have the pleasure and honour of accepting it."
Dickens goes on to say that he will be in Kent on the day in question.
Lovejoy and Dickens were occasional correspondents.

Accompanied by two vintage photographs of Dickens.
Provenance: Sotheby's auction (November 1983), and Stanley Gibbons
Free global shipping. 28-day returns. Certificate of Authenticity and our Lifetime Moneyback Guarantee of Authenticity included.
BUY NOW: Order online, by phone +44 (0)1534 639 998, or via email info@paulfrasercollectibles.com
Payment & Security
Your payment information is processed securely. We do not store credit card details nor have access to your credit card information.