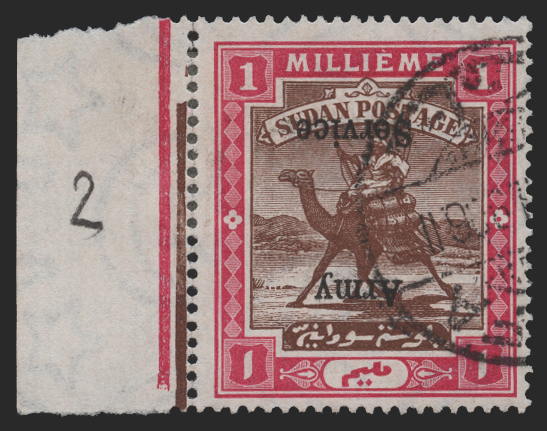 Sudan 1906-11 1m brown and carmine Army Service, error, SGA6b
£800.00
Sudan 1906-11 1m brown and carmine Army Service, type A3 overprint (12mm space), error OVERPRINT INVERTED, left marginal, SGA6b.
A very fine positional used example with part "(HAL)FA" circular date stamp showing year "1906".
Choice quality and rare. Only 60 originally existed yet it remains lowly priced in the Stanley Gibbons catalogue.
The "Camel Postman" stamps of Sudan are considered by the famous printers De La Rue as the "most satisfactory" in their long history of stamp production and effectively became the country's symbolic emblem.
Accompanied with a Royal Philatelic Society (RPS) certificate of authenticity (1977).
Stanley Gibbons catalogue value: £850.
BUY NOW: Order online, by phone +44 (0)1534 639 998, or via email info@paulfrasercollectibles.com
Payment & Security
Your payment information is processed securely. We do not store credit card details nor have access to your credit card information.