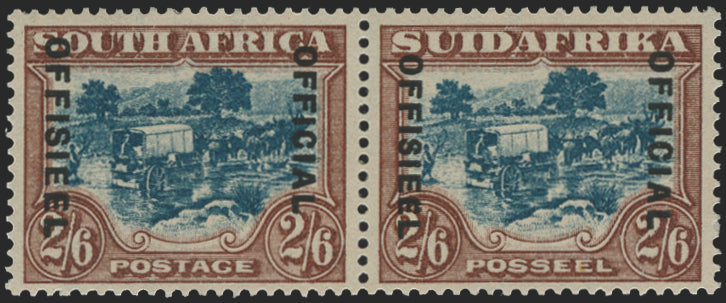 SOUTH AFRICA 1930-47 2s6d blue and brown Official, variety, SGO19b
South Africa 1930-47 2s6d blue and brown 'Ox-wagon Inspanned' Official, rotogravure 'SUIDAFRIKA' one word, overprint type O2, horizontal pair, right (Afrikaans) stamp showing variety 'Diaeresis over second 'E' of 'OFFISIEEL' (R6/2), SGO19b.
Most interestingly, the left (English) stamp (R6/1) also shows short 'OFFICIAL' as listed in the South Africa Union Handbook, No V1.
A brilliant quality mint pair with original gum.
A rare printing variety and of particular interest with the additional variety on the left English stamp. Only 199 maximum possible examples, from 1947 printing.
Stanley Gibbons catalogue value: £1,500+.
BUY NOW: Order online, by phone +44 (0)1534 639 998, or via email info@paulfrasercollectibles.com
Payment & Security
Your payment information is processed securely. We do not store credit card details nor have access to your credit card information.