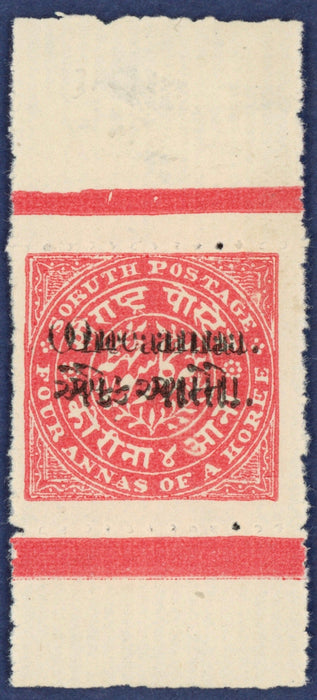 I.F.S. Soruth 1913 1a on 4a red error, SG38c
Indian Feudatory States Soruth 1a on 4a red, on white laid paper, error with surcharge double, SG38c.
A very fine unused example with both top and bottom margins.
A rare surcharge error.
Soruth (also known as Junagadh and Saurashtra) was a Princely State near Bombay in the Western India States Agency. After unification, it joined the United States of Saurashtra, and at present it is part of the State of Gujarat.
Stanley Gibbons catalogue value: £1,000.
BUY NOW: Order online, by phone +44 (0)1534 639 998, or via email info@paulfrasercollectibles.com
Payment & Security
Your payment information is processed securely. We do not store credit card details nor have access to your credit card information.